Well Mavi and I are off skiing in a few weeks time to
Uludağ
, Turkey's most popular ski-resort. It will be great to get away for a week or so and just chill-out in a nice hotel and play around in the snow with the little ones (the bigger ones will be off having fun on the slopes
). We never know, we might get the young ones onto skis; every sport is best learnt young.
Finger's crossed we will return unscathed
; Mavi's biggest fear is that she'll fall. I've told her that I can't count the times I fell so she'll have to expect to be on her bum a few times.
We'll take a few photos and post them in the Gallery when we return.
This is my and my hubby there 2yrs ago.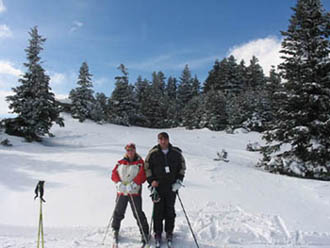 scary stuff, she better not have the camera trained on me!!
We won't recognize you if your are wearing all the skiing gear.
---
Permissions in this forum:
You
cannot
reply to topics in this forum